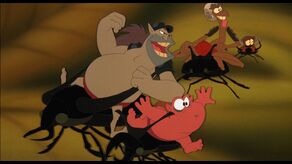 The
Beetle Boys
are friends of
Pips
and are often seen around him most of the time. They only have a few moments in
FernGully: The Last Rainforest
, where they fool around and kidnap
Zak
. They are seen more in
FernGully 2: The Magical Rescue
.
Members
Knotty (voiced by Townsend Coleman)
Root (voiced by Tommy Chong)
Stump (voiced by Cheech Marin)
Bark - (No voice actor in the first FernGully movie, but in the second movie, he is voiced by K.T. Vogt.)
Appearance
Knotty
Root
Stump
Bark
Personality
Knotty
Root
Stump
Bark
The Beetle Boys are first shown in the flim when Pips and Crysta are racing by and they join them, but the Beetle Boys race away when she comes back down with a bird following her. WIP!
The Beatle Boys, Pips and Batty all leave the forest to save the baby animals, but soon get distracted when they see all the human's rides in a amusement park and ride them instead, forgetting their original plan. WIP!
Gallery
Click here to check out The Beetle Boys/gallery