Crysta



       Hair        Eyes        Magic Trail

Species

Fairy

Gender

Female

Occupation

Sprite of the Forest

Affiliation

Good

Home

Appearance

Black hair, green eyes, red lips, red tube top, short red skirt and barefoot

Allies

Zak, Pips, Batty, Magi, The Elder, Beetle Boys, Fairies of Ferngully

Enemies

Fate

Defeats Hexxus and takes Magi's place as Sprite of the Forest
Crysta is a curious young fairy and the main character of FernGully: The Last Rainforest and is also a major character in FernGully 2: The Magical Rescue. She is voiced by Samantha Mathis in the first movie and Laura Erlich in the sequel.
Personality
Crysta is a curious young fairy, but can also be very naive. She's brave and a loyal friend who's willing to sacrifice herself to protect her home of FernGully. After taking Magi's place, she becomes more mature and responsible.
Appearance
Crysta is a pretty young fairy who appears to be around 16 years old. She has black hair, green eyes, red lips and pointy ears. Her outfit is a red tube top and short skirt.
Coming soon!
Coming soon!
Relationships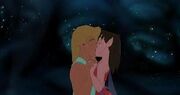 Zak is the second love interest for Crysta, behind Pips. Crysta first sees him in Mount Warning after Batty tells her not to go. He mistakes her for a bug as she's flying around him and catches her, but while looking at her he doesn't see a tree about to fall on him, so she accidentally shrinks him down to her size to keep him from getting crushed.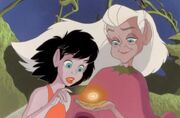 Pips was the first love interest for Crysta, as shown in the beginning of the first movie. The two have a close friendship, almost like a brother and sister. Crysta likes to mess around with Pips from time to time and the two often engage in competitions and exchange playful teasing.
Crysta and Magi have a mother-daughter-like relationship. Crysta's often goes to her for advice and training in her powers.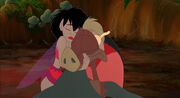 Batty is one of Crysta's best friends. Often, Batty's wild and paranoid personality confuses her, but she knows he's well-meaning.
Gallery
See Crysta/gallery