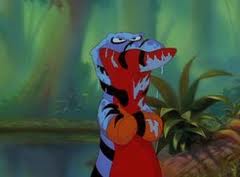 If I'm Gonna Eat Somebody (It Might As Well Be You) is a song sang by Lou when he was trying to eat Zak. It is performed by Tone Lōc.
Lou
Check this out
I've a basic inclination
A very primal need
To inspect the vegetation
For an egg or centipede
I just can't control this hunger
I just can't seem to cut back
On my ravenous consumption
Uh
You're a welcome little snack
If I'm gonna eat somebody
It might as well be you
Can you dig it?
I could see you as a sandwich
Or a strange, exotic stew
Yeah
Leaches
Floating down the river
Like an oyster in a stew
Lou
Get funky one time
Leaches
He's gonna eat somebody
Lou
It might as well be you
You know it
Kick it one time
Uh
Welcome to the food chain